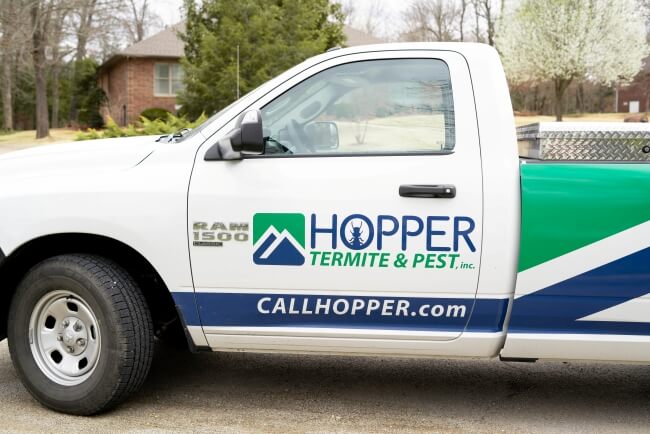 Bed bug control in NWA and Mountain Home
Trusted pest
control professional

for infestation removal & prevention in Northwest Arkansas & Mountain Home
Although it was thought that bed bugs were completely eradicated for a while, this is not the case. In fact, there's been a resurgence of them in Arkansas and we've commonly seen them in homes, hotels, dormitories, and more. While there are countless myths about do-it-yourself treatment methods and products, those typically do not work.
Fortunately, the Quality Pro Certified team at Hopper Termite & Pest offers fast, effective, and lasting bed bug control in Springdale, Fayetteville, Mountain Home, and the surrounding areas. Combining our 55+ years of experience and continuous training, we will locate the infestation, treat your property using eco-friendly methods, and return to ensure that the problem hasn't returned.
Protection from bed bugs starting at $79/quarter
Premier Pest Prevention Plan
Year-round protection from stink bugs, other insects, and rodents, starting at $79 per quarter*. After a thorough interior and exterior initial service, we will preventatively treat the exterior of your home every three months to keep pests out of your home. There is no additional charge if issues with included pests pop up in between treatments.
This program covers most crawling insects as well as mice and rats.
*Prices will vary depending on the size of the property. There may also be a higher cost for the initial "clean out" service.
Very professional and well established company!!
Be wise and spend your money well, by using their service with confidence that they will be there when you need them!
Highly recommend Hopper! So professional and outstanding service
Helping Arkansans sleep easy since 1963
My home is clean! Why do I still have bed bugs?
Unfortunately, sanitation has nothing to do with attracting bed bugs. This is because they are attracted to blood meals. So regardless of whether your Springdale or Fayetteville home is sparkling clean or a pigsty, it can still attract these pests.
What are common methods of bed bug transmission?
Bed bugs are commonly found in places with consistent occupant turnover. Therefore, locations such as hotels, motels, apartments, dormitories, and more are often at risk for infestation.
Because bed bugs hitchhike in search of food, they tend to be transported via:
Bedding
Luggage
Clothing, especially second-hand items
Used furniture
Moving boxes
What are common bed bug habits and hiding spots?
Because it's easier to remain undetected at night, bed bugs are active during the later hours and hide during the day in spots that are close to where people sleep. Because of their flat, round bodies, they're able to fit between headboards and bed frames.
Other common hiding places include:
Mattresses
Box springs
Linens
Upholstery
Behind wallpaper
Inside picture frames
How to detect bed bugs in NWA & Mountain Home
Bed bugs are barely visible to the naked eye due to their small size. However, there are a few indications you have an infestation. If you notice any rust-colored stains of blood on your bedsheets, mattresses, or walls, this could be a sign that bed bugs are present. Additionally, their dried excrement might cause staining or dark spots in areas where they congregate.
However, the most noticeable sign that you might have bed bugs in Springdale, Fayetteville, or Mountain Home is their bites. Because they tend to feed on any exposed skin while people are sleeping, you often do not know you're being bitten until much later. Symptoms of a bed bug bite include an itchy red welt or localized swelling, but some people experience little or no reaction.
This being said, the only sure way to determine whether you're dealing with a bed bug infestation is to have our pest control specialists perform a thorough inspection of your property.
Schedule prompt & dependable bed bug control today
Once our Springdale and Mountain Home bed bug control specialists determine the extent of the infestation, we will personalize a comprehensive elimination program. This will include recommendations for treatment applications.
Hopper uses technology and experience to take out bed bugs
Nothing can ruin your day more than bed bugs. And while these nasty pests are common, what attracts them to your property (and what you can do about it) isn't widely understood. Learn more about bed bug prevention and response with the Hopper blog.
Pest control pros since 1963
Hopper's hardworking crew is your first call to knock out bed bugs and other infestations. From ants to wildlife, we have service plans that are right for your needs and the experience and technology to exterminate pests wherever they're hiding.