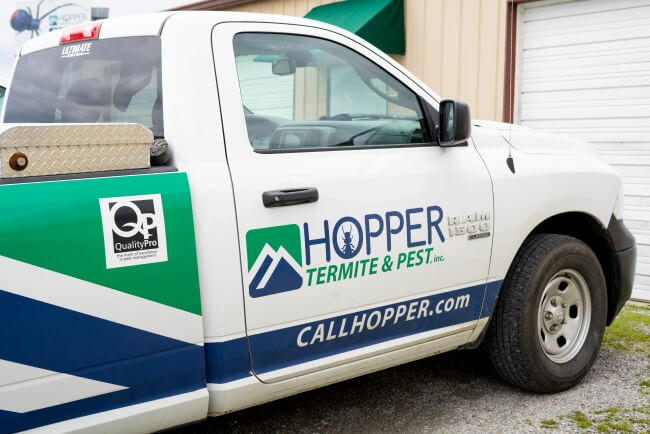 Rodent control in NWA and Mountain Home
Your go-to mouse & rat exterminator in Northwest Arkansas & Mountain Home
Northern Arkansas and Southern Missouri are home to a number of different rodent species, including the two vermin that are most troublesome: Norway rats (which gnaw and burrow; also known as sewer rats) and mice (which commonly nest within structures).
Of course, if you encounter one of the other rodent species, such as gophers, moles, voles, squirrels, raccoons, opossums, skunks, or groundhogs, we can handle them as well.
Gain peace of mind that your infestation has been eliminated by relying on our highly trained exterminators for prompt and dependable rodent control in Springdale, Fayetteville, Mountain Home, and throughout Northwest Arkansas.
Protection from mice and rats starting at $79/quarter
Premier Pest Prevention Plan
Year-round protection from stink bugs, other insects, and rodents, starting at $79 per quarter*. After a thorough interior and exterior initial service, we will preventatively treat the exterior of your home every three months to keep pests out of your home. There is no additional charge if issues with included pests pop up in between treatments.
This program covers most crawling insects as well as mice and rats.
*Prices will vary depending on the size of the property. There may also be a higher cost for the initial "clean out" service.
Great service.
I highly recommend this company. 
Friendly and professional. Always on time. They are the best and I recommend them to anyone!
They're knowledgeablee and professional employees.
Helping keep rats and vermin at bay since 1963
Hopper's rodent service FAQ's
Why are rodents dangerous?
Rodents can spread a number of diseases, many of which may become life-threatening, if not identified and treated, such as Salmonellosis, Hepatitis, Dysentery, Hantavirus, Lyme disease, Tularemia, and the Plague. That is why the eradication of existing rodent populations, as well as the prevention of access to structures by rodents, is of paramount importance.
Exposure to contaminated rodent droppings and urine can put humans at risk for contracting these diseases. Additionally, rodents can transport disease-carrying fleas into your home and act as the agent of contamination when the fleas drop off the rodent and bite an unsuspecting person.
What are the signs you need rodent control?
Chewed through holes –

 

Especially as the winter goes on, rats and mice will become more and more

 

desperate

 

for food. They'll chew through whatever they can to get to your pantry so look out for new holes.
Droppings –

 

As these scavengers eat a lot, they'll often leave their droppings on the way to their food source—so if you notice it, contact our team for dependable rodent control in Springdale, AR. Rats also have bad bladders and their urine leaves a

 

noticeable

 

stench.
Sounds at night or sightings during the day –

 

As their search for food intensifies, they'll scratch and claw at anything throughout the night. If you see them during the day it means they're nesting nearby as they're nocturnal.
Visible signs of a nest –

 

These animals like to nest in enclosed spaces, so look out for any signs of their nesting and call in our rodent control team should you see them.
Footprints –

 

Mice have feet about a quarter inch long and rats have feet that can stretch for an entire inch, sometimes more. Rats will also leave tail prints as they have bigger ones.
Comprehensive rodent inspection in NWA & Mountain Home
There are eleven things your pest control professional will look for when conducting a comprehensive rodent inspection in Springdale, AR: droppings, tracks, gnaw marks, burrowing, runways, grease/rub marks, urine stains, live or dead rodents, rodent sounds, rodent odors, and nesting areas. A thorough inspection provides critical information about the size of the population and the routes taken by the rodents.
Rodent Infestation Solutions
The Hopper professionals will solve your problem safely, quickly, and affordably! This will be done in conjunction with our Integrated Pest Management Rodent Elimination Program. This environmentally responsible program utilizes the latest strategies, technologies, and materials to eradicate your problem and help keep it from returning.
We will make sanitation recommendations, offer exclusion suggestions and service options, discuss habitat alterations (trimming of shrubs and trees, etc) – and of course – offer a number of practical treatment methodologies to eliminate the current rodent populations.
Sign Up for Our Rodent Service Plan
When you sign up for one of Hopper's annual Rodent programs, you have the peace of mind in knowing that if the rodents return, so do we, and at no charge!
We're rodent control experts
Rodents can be uniquely challenging to fend off. Learn more about what attracts vermin and how to help keep them away in the Hopper blog.
Pest control pros since 1963
Our hardworking, nationally certified crews are ready to clean up infestations and keep pests out of your home and business, in NWA and the Mountain Home area.