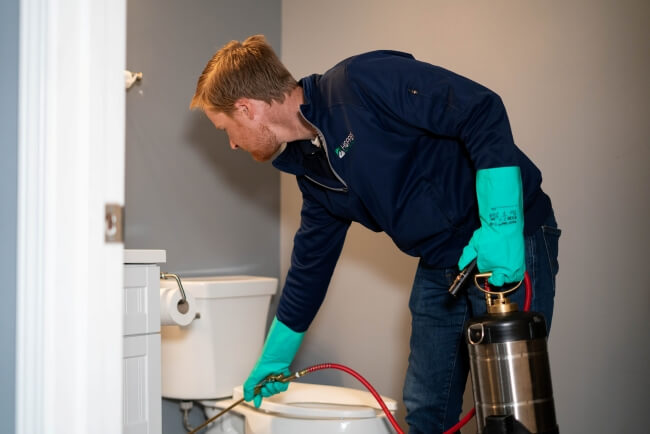 Cockroach control in NWA and Mountain Home
Comprehensive inspection, treatment & prevention in  Northwest Arkansas & Mountain Home
Are you one of those people who jumps onto the table and screams when you see a cockroach? Don't worry, you're not alone. Cockroaches are common pests that typically infest homes, restaurants, or any building where they have access to a steady food source. They're often thought of as filthy creatures and many people are either disgusted by or afraid of them—and for good reason. Cockroaches pose serious threats to your health. At Hopper Termite & Pest, we offer professional cockroach control in Springdale, Fayetteville, Mountain Home, and throughout Northwest Arkansas. We've been assisting residents throughout the area since 1963. Our individualized approach to pest control is sure to rid your property of your cockroach problem once and for all.
Protection from cockroaches starting at $79/quarter
Premier Pest Prevention Plan
Year-round protection from stink bugs, other insects, and rodents, starting at $79 per quarter*. After a thorough interior and exterior initial service, we will preventatively treat the exterior of your home every three months to keep pests out of your home. There is no additional charge if issues with included pests pop up in between treatments.
This program covers most crawling insects as well as mice and rats.
*Prices will vary depending on the size of the property. There may also be a higher cost for the initial "clean out" service.
Very professional and well established company!!
I have never had a pest control company come out and spray and cover every area of our home (inside and out) like they did!!!
Friendly and professional. Always on time. They are the best and I recommend them to anyone!
Helping keep cockroaches out of Arkansas homes since 1963
Hopper's cockroach service FAQ's
Where do cockroaches commonly hide?
Cockroaches are nocturnal insects, which is why it can be difficult to know you have a problem until it's too late. However, understanding their habits and most common hiding spaces will help you identify ways to spot them and prevent future infestations from occurring.
Because of access to food and water or the ability to hide in a dark and/or moist place, cockroaches tend to be found in:
Kitchens
Floor drains
Electrical and plumbing conduits
Bathrooms
Grocery bags
Un-refrigerated vegetables
Utility closets
Basements
Toasters, televisions, or other electronics
How can cockroaches affect my health?
In addition to being a source of anxiety or fear when they're spotted, cockroaches can also be hazardous to your health. It was recently discovered that cockroaches harbor certain allergens within their feces, saliva, and body parts that can trigger allergic reactions. Additionally, if you're asthmatic, or someone in your house has asthma, contact with a cockroach can bring about an asthma attack.
Cockroaches are also responsible for transporting pathogens that can affect humans, including 33 kinds of bacteria and 6 parasitic worms. Of these, some of the most common issues are the spread of E. coli and salmonella which can cause food poisoning or gastroenteritis.
What can homeowners do to help prevent cockroach infestations?
To prevent cockroach infestations, we commonly recommend that homeowners get in the habit of:
Cleaning up all spilled foods and water
Repairing any water leaks
Increasing ventilation
Inspecting any foods or packages
Eliminating places where they can hide or access your property by sealing or screening
Our cockroach control process
At Hopper Termite & Pest, we don't have a one-solution-fits-all mentality. Instead, we approach each pest infestation on an individual basis. We will begin by conducting a thorough inspection of your home to determine where the infestation is located and possible causes for it. From there, we will work with you to customize a treatment plan that combines elimination and exclusion methods.
Decades of experience taking out cockroaches in Arkansas
Cockroaches aren't just unsightly; they can spread disease and even cause property damage. In the Hopper blog, we talk more about what you can do to identify cockroach infestations and help prevent them from coming back.
Pest control pros since 1963
Hopper Termite & Pest is your first call when you think your home or business may be dealing with cockroaches or other Arkansas pests. We have the experience and technology to get the job done and service plans that are right for your needs.