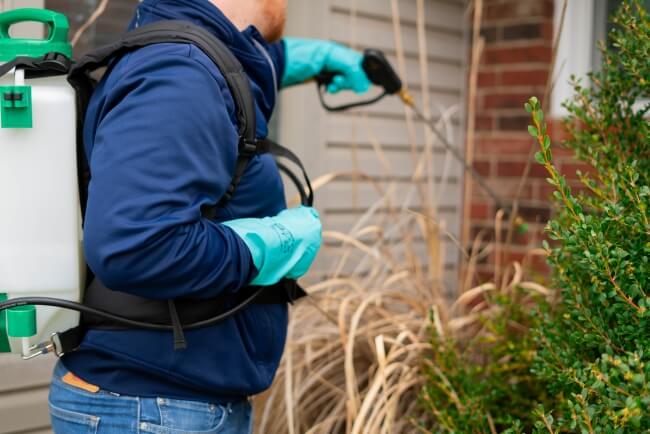 Mosquito control in NWA and Mountain Home
Effective flying insect removal & prevention in Fayetteville & Northwest Arkansas
We have all experienced a mosquito bite, which is itchy and can lead to swelling, but did you know that mosquitoes can also put you in danger of serious illness? Mosquitoes can be carriers of diseases like the West Nile virus, dengue, and malaria, so it's important to take action if your yard has become overtaken by these pests. Hopper Termite & Pest now offers a complete Mosquito Service Plan to get rid of mosquitoes in your backyard or anywhere on your property. Using proven methods, our team can help keep mosquitoes under control so that you can enjoy your outdoor space safely and comfortably.
Get protection from mosquitoes
Our Mosquito Prevention Plan starts at $150 per service, 3-5 times per season.
Best pest control company! So timely and professional. Highly recommend!
You will not find a better company for your pest control and prevention needs!
Seriously, the best customer service. Couldn't recommend enough!!
Fighting mosquitos in Arkansas since 1963
Learn more about our mosquito service
How can how I prevent the need for mosquito control?
1. Trim your shrubs and foliage – Mosquitos thrive in the shade because of how much they cannot tolerate direct sunlight. To rid your property of mosquitos, the first step is to ensure there's as little shade as possible.
2. Get rid of standing water – Mosquitos need standing water to lay their eggs. So empty out rain buckets and consider a dehumidifier to get your humidity to a point that wouldn't require a visit from our Fayetteville mosquito control experts.
3. Utilize fans – As mosquitos are quite light, they don't usually like to be blown away so easily. If you're hosting a gathering, then consider implementing some fans at around ankle height to make their flight more difficult.
4. Clean out your gutters – When your gutters are full of leaves, it will block the draining necessary to ensure there's no standing water in your gutters. This will lead to a visit from our mosquito control experts as there'll be an infestation in no time.
5. Treat standing water – If you have a pool then the chlorine should do the trick. But if you have a water garden for the aesthetic appeal then consider guppies to eat mosquito larva.
Our Mosquito Treatment Plan
Our mosquito treatment plan begins with your local Hopper representative conducting a thorough property inspection and identifying the kind of mosquitoes causing the problems. Various water sources and the way your landscaping is designed play a role in an infestation. After inspection, we will prepare a treatment plan and recommendations that will be the most effective for your property and budget.
Some chemical product uses that may be needed for mosquito treatment include insecticides for plants and shrubs that adult mosquitoes live in, insect growth regulators that prevent mosquito development in the first place, and microbial insecticide products that kill mosquitoes if they are already established.
Hopper's mosquito treatment will last up to 60 days and may need to be reapplied every 60 days during the spring and summer months when mosquitoes are the most prevalent.
New technology, decades of experience. Mosquitos don't stand a chance.
Mosquitoes are among the most common pests in Mountain Home and across NWA. Read on in the Hopper blog to learn more about "the world's most dangerous insect" and what you can do to help keep them away.
Pest control pros since 1963
Our hardworking and nationally certified crew is ready for all your mosquito and pest control needs. From ants to wildlife, we have you covered in the Springdale and Mountain Home areas.