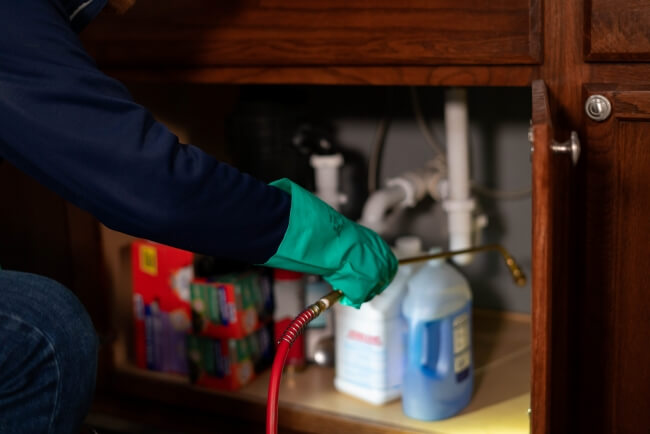 Ant control in NWA and Mountain Home
Preferred pest control professional in Fayetteville & Northwest Arkansas
Ants are among the most common and bothersome pests that plague American homes. If you're having trouble controlling an ant invasion and are looking for a local exterminator to help you, look no further than Hopper Termite & Pest.
Trusted in Springdale, Fayetteville, Mountain Home, and the surrounding areas since 1963, our pest control company offers proven ant control solutions for both residential and commercial applications. Don't waste another moment dealing with an ant problem—call us today to learn more about our elimination and prevention methods.
Protection from ants starting at $79/quarter
Premier Pest Prevention Plan
Year-round protection from stink bugs, other insects, and rodents, starting at $79 per quarter*. After a thorough interior and exterior initial service, we will preventatively treat the exterior of your home every three months to keep pests out of your home. There is no additional charge if issues with included pests pop up in between treatments.
This program covers most crawling insects as well as mice and rats.
*Prices will vary depending on the size of the property. There may also be a higher cost for the initial "clean out" service.
They definitely take care of your home and want to bring you the best service possible at an affordable price.
We've always had very good service. We highly recommend them.
Everyone we've spoken to has been super friendly and helpful. Their prices are extremely competitive
Your first call for ant control in Arkansas since 1963
How do I recognize ants?
There are hundreds of ant species found in the U.S. although only about 25 that commonly infest homes. Ants are generally social insects that typically live in underground colonies, made up of workers and a queen. Ants will eat practically any kind of food but are especially known to be attracted to sweets. Despite similar construction, ants vary in overall appearance. Small or large ants and brown or black ants are common nicknames for different species.

If you do find signs of an ant infestation in your home, contact a pest professional promptly. They will be able to inspect your home, perform proper ant species identification, and recommend a course of ant control and extermination.
How big are ant colonies?
Colonies may be composed of several hundred to 100,000 ants. There are usually many queens in a colony. Developmental time (egg to adult) is 34-83 days, varying with temperature during summer months, and up to 6-7 months during the winter.
Colonies typically produce 4-5 generations a year. Although they probably mate both inside and outside the nest, the first swarmers appear from May to mid-July. The workers and queens live for several years. Individuals from different colonies are not hostile to one another and workers normally move along trails.
Ant Habits
Inside, these ants usually construct their nests in wall voids especially around hot water pipes and heaters, in crevices around sinks, cupboards, etc. These ants prefer sweets but also eat foods with high protein content and grease such as meats and cheese.
Outside, they are often found in the nest of larger ants, in exposed soil, but mostly under objects. Workers feed on insects, seek honeydew and plant secretions, and even feed on seeds. They are extremely fond of honeydew and attend such honeydew-excreting insects as plantlice (aphids), scale insects, mealybugs, etc.
They are most likely to enter buildings when their honeydew supply is reduced such as during rainy weather or with leaf fall in the autumn. When workers are alarmed, they run around in an erratic manner with their gasters/abdomens raised up.
Controlling Ants
Location of the nest(s) is crucial and can often be accomplished by following the trail of foraging workers back from the food source. Use of boric acid dust in the voids of outside ground-floor walls and infested interior walls along with barrier treatment is effective. Baiting is often required.
Ant and pest control pros
Ants can be a nuisance for any Arkansas home or business. And left unchecked, they could become a real problem. Learn more about these common pests in the Hopper blog.
Pest control pros since 1963
Our family and crew work hard to keep your residence or commercial property pest free. We're no strangers to ants but we've seen our share of wildlife, spiders, and everything else Arkansas has to throw at us. Check out our services to see more of what we do and find a plan that's right for your needs.