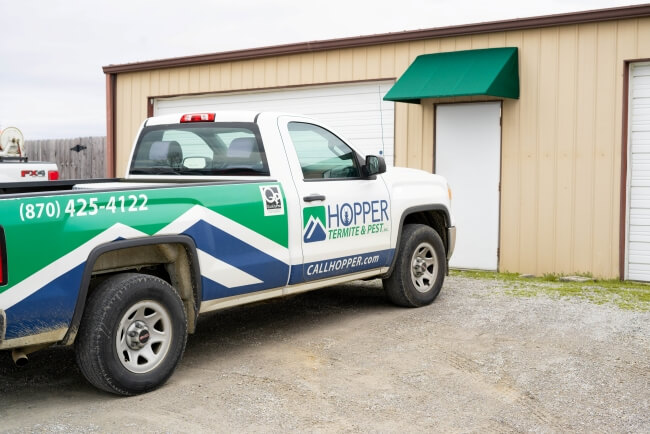 Wildlife control in NWA and Mountain Home
Convenient animal & wildlife removal in Northwest Arkansas & Mountain Home
Whether it is a residential home or a one-million-square-foot industrial complex, let Hopper Termite & Pest design the necessary wildlife control and/or exclusion program to suit your needs. Most species of wildlife do some sort of destruction to your home or business in their process of intrusion. Most property owners will ask, "Why are they here?" or "Why is this happening to me and not the property next door?". The answer is almost always the same in every case: your property offers food, water, or shelter. The first step in any wildlife "crisis" is a professional evaluation by one of our wildlife experts in Springdale and Mountain Home. This includes the proper identification of the animal(s) in question, where they are gaining entry (if applicable), and the proper treatment method for solving your particular problem.
We've always had very good service. We highly recommend them.
Everyone we've spoken to has been super friendly and helpful. Their prices are extremely competitive.
They definitely take care of your home and want to bring you the best service possible at an affordable price.
Keeping the outdoors outdoors since 1963
Learn more about our wildlife services
What are some methods of wildlife exclusion?
We offer expert services in areas such as exclusion, which prevent nuisance wildlife from entering your home or business.
This may require:
Screening
Wood repair
Gutter and guard installation
Bird spike installation
Wildlife Control
Hopper Termite & Pest utilizes many methods in dealing with nuisance wildlife. It may be as easy as trap and release in some cases, or even the installation of a chimney cap. In other cases, depending on the animal(s) in question, a long-term commitment to removing the animals is necessary. Whatever the case may be, you can trust our Springdale and Mountain Home wildlife control experts to design the solution to your problem.
We're pest and wildlife control experts
Wildlife infestations can be unexpected, and the best way to get whatever critters are in out will likely depend on the circumstances. But check out the Hopper blog for general advice on wildlife control and dealing with other kinds of pests.
Pest control pros since 1963
From our branches in NWA and Mountain Home, Hopper Termite & Pest offers a range of services with treatment plans that are right for your needs.