Hopper Termite & Pest in Northwest Arkansas
Location
4262 S Thompson, Suite E
Springdale, AR 72764
Hours
Monday-Friday: 8am-5pm
Saturday-Sunday: Closed
Proudly serving NWA from our branch in Springdale
Don't let termites, mosquitoes, wildlife, bedbugs, or other pests interfere with daily life at your residence or business. From our Springdale office, we can manage all pest control needs for customers in the Northwest Arkansas area. We don't just work in NWA; we live there, too. So we understand these communities, and we know how important honesty, fairness, hard work, and excellence are to our customers. As a large company, we have the resources to meet your pest control needs in an effective and professional manner. At the same time, our small-company culture allows us to offer customers the flexibility and personal attention they deserve. Have pest control needs in NWA? Call us today!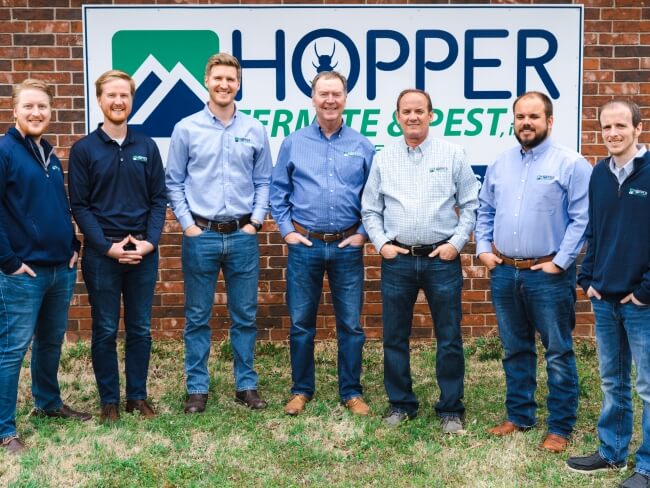 Bringing the Hopper name to Northwest Arkansas
In 1963, brothers Merlin and Lynn Hopper had one truck and one set of equipment. But they had a big vision: A local pest-control business in Mountain Home. With a unique commitment to customer service, they opened the doors of Hopper Termite & Pest in 1963, and the company began to grow.
Eventually, Mark and David Hopper joined their fathers' business. In 2006, David's son Dallas Hopper, a University of Arkansas graduate, joined the company to manage the Northwest Arkansas regional office. Now three generations strong, Hopper Termite & Pest remains committed to the high level of customer service the original Hopper brothers established more than a half-century ago.
Top-rated residential & commercial service
Our customers have spoken! Read our reviews and see why Hopper Termite & Pest is the top choice for pest control in Northwest Arkansas.
Most professional pest control company in Northern Arkansas. Wouldn't use any of the others in the area, and we tried 2 others. Be wise and spend your money well, by using their service with confidence that they will be there when you need them!
The best pest control in NWA. Everyone we've spoken to has been super friendly and helpful. Their prices are extremely competitive. Couldn't recommend enough!!
Very professional and well established company!!
Trusted pest control in Arkansas since 1963
Hopper Termite & Pest is a family, and our customers are part of that family. Since the Hopper brothers opened the company's doors in 1963, Northwest Arkansas residents and business owners have looked to us for their pest-control needs. With experience and a strong commitment to customer service, Hopper is simply the best pest control choice you can make for your home or business.
Get a consultation in NWA