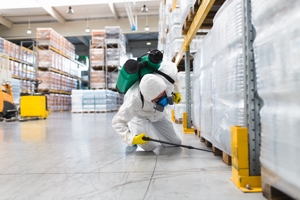 Why Commercial Pest Control is So Important
Whether you are the owner or manager of a retail establishment, hotel, restaurant, warehouse, or manufacturing facility, a pest infestation is the very last thing you need to happen. When pests invade, they can create an incredibly unhealthy environment for your employees, guests, and customers, which makes professional commercial pest control an absolute must. Continue reading to discover the ways in which a pest infestation can impact your business and how you can benefit from routine commercial pest control.
Ways a Pest Infestation Can Impact Your Business
No matter the industry you work in, a pest infestation can turn your entire business upside down. If you are unsure of whether or not pest control is necessary, consider all of the negative impacts an infestation can have on your business.
Below are 3 major impacts an infestation can have on your business:
Tarnished reputation: Thanks to social media, yelp, and reviews, news of a pest problem on your property can spread like wildfire. Once your community catches wind of a pest problem on your property, it can take a long time to earn everyone's trust back.
Financial losses: A pest infestation can result in significant financial losses due to halting operations during treatment, paying for treatment, and replacing any inventory damaged or tainted by pests.
Endangered employees and customers: Certain pests—such as rodents and roaches—create incredibly unhealthy environments. From spreading illnesses to triggering asthmatic reactions to contaminating food sources, pests can potentially harm your employees, customers, and guests.
It's no secret that a pest problem can destroy a business if not handled correctly. With that in mind, it is incredibly important that you have a comprehensive commercial pest control treatment plan in place.
Benefits of routine commercial pest control include:
Eliminates existing pests
Prevents future infestations from happening
Keeps your employees and customers safe
Maintains employee morale
Prevents property damage
Keeps your business' reputation intact
Don't let pests take over your business; hire a professional pest control company to ensure your business, employees, and customers all remain protected against pests.
Call Hopper Termite & Pest Today!
As the most trusted name in pest control, Hopper Termite & Pest can handle your every pest problem. Our service professionals have extensive experience servicing residential and commercial properties of all types, so no job is too big or too small for us to take on. Using top-quality products and advanced technology, our experts rid your property of any existing pests and prevent any pests from making their way onto your property in the future.