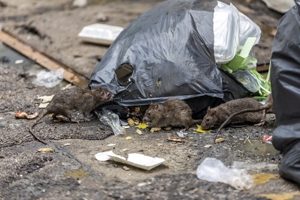 Rodent Populations Spike Due to COVID-19 Closures
With the recent COVID-19 outbreak, restaurants throughout Springdale and the surrounding areas have had to shut their doors to diners, only offering curbside pickup or delivery. Some have even had to shutter their doors altogether and wait out the global pandemic. Due to these closures, many of the rodents, specifically rats, who relied on the scraps these establishments disposed of are without their steady food supply.
Due to the lack of food, people are finding that these rats are showing up in new areas, desperately searching for sustenance. In fact, this lack of food has altered the behavior of many rats, making them more aggressive—even to each other. In New York City, reports have stated that some rats are resorting to eating their young or each other.
As the country, and Arkansas, work to reopen restaurants and other establishments to the public, it's important to ensure you're prepared and protected against a rodent infestation. At Hopper Termite & Pest, our Springdale rodent control experts can treat your residential or commercial property to keep you and your family safe.
Rodent Prevention Methods
Because of their increasingly aggressive behavior and the fact that rodents can carry and transmit over 35 diseases, it's important to ensure that you prevent them from entering your property.
The CDC recommends the following rodent prevention methods, all of which our technicians can assist you with:
Eliminate any conditions that would attract rats
Seal access points to buildings
Discard debris and heavy vegetation
Keep garbage in tightly covered bins
Remove pet food and bird food from your yard
Use rodent bait stations which will probably need to be changed more frequently due to their increased appetites
At Hopper Termite & Pest, our pest control technicians are committed to providing excellent customer service. We all receive ongoing training to remain on top of the latest news and advancements in our industry, including prevention methods and equipment. As members of both the Arkansas and National Pest Management Association, you can trust that our experienced Springdale rodent control experts will keep you protected.
To schedule service, just call (479) 332-3745 or contact us online.